The adventure of Evariste Huc and Joseph Gabet:
Beijing to Lhasa, 5400 km by bicycle and horseback on the trail of Evariste Huc (1813-1860)
---
In the 19th century, only a few explorers and missionaries left to discover China, which was then prohibited to Westerners.
In 1844, Evariste Huc (1813-1860) and Joseph Gabet (1808-1853), two French missionaries belonging to the Lazarists order, accompanied by Shambdachiemba, ventured to the far-off regions of the Celestial Empire. Then began a "Grand Voyage" towards the steppes of the North, which was still unknown to Westerners.
The most incredible adventures began for these "astonishing travellers". For two years, their caravan, made up of horses and camels, crossed hostile areas, facing the agony of the extreme climate of these desert areas and the attacks of bandits. Throughout this journey, they adapted to all conditions, adopting each time the language (Manchu, Chinese, Tibetan, Mongolian), clothing, cooking and the nomadic way of life.

In this manner, on January 29, 1846, Mr. Huc and Mr. Gabet, mingled with a Tibetan caravan, and dressed up as lamas, arrived at Lhasa, "after 18 months of struggle against innumerable suffering and exhaustion". They were the first Frenchmen to discover the capital of Tibet (Lhasa), and to leave there alive, 70 years before Alexandra David-Néel. In the Forbidden City, people hurried to observe these "Lamas from the West", natives of an unknown country.
After a few weeks in Lhasa, they were expelled of Tibet and escorted in palenquin as far as Macao.

Evariste Huc remained still a few years in China, before returned to France, and was decorated with the "Legion of honor" in 1853. He received the French Academy Montzont price for his book "Memories of a voyage in Tartarie and Thibet" reporting their adventures.

By means of his travel book, "Memories of a Voyage in Tartary and Thibet", Evariste Huc humorously recounted their extraordinary journey. As a true ethnologist, he thoroughly described the traversed areas. Even today, his writings remain an invaluable and unique testimony to the China of the19th century.

He met frequently Alfred de Vigny, Lamartine, and the Countess of Segur. Napoleon III received him in person and allowed him; to print his first book with the imperial printing works.

The story of Evariste Huc inspired Beaudelaire for his poem "L'horloge".
---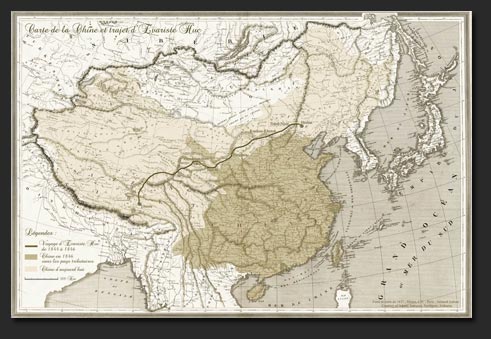 Itinéraire suivi par la caravane de 1844 à 1846
---